Bandsaw Series From Industrial Bandsaw Services
October 16, 2023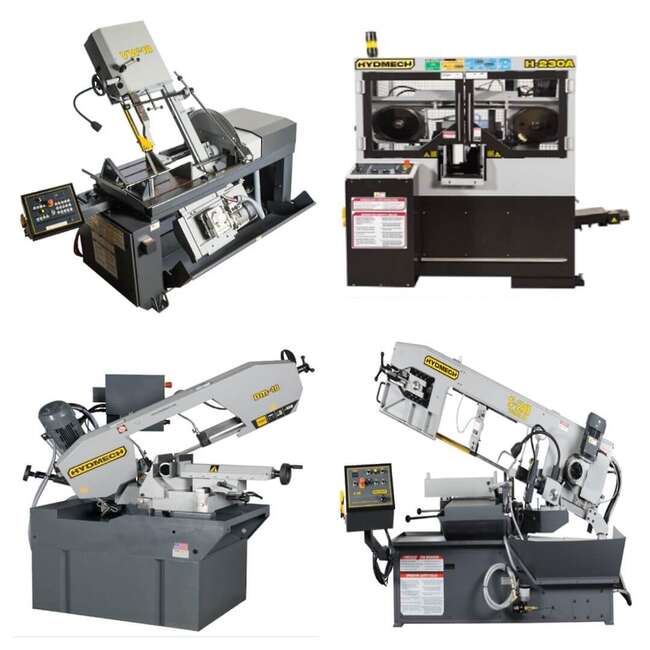 The need for dependable sophisticated cutting machinery is now more than ever. We at Industrial Bandsaw Services understand this. With decades of experience in the industry, we know exactly what you want. We understand that each sawmill or metal fabrication business has different needs. What might work for one might not do so well for the other. Horizontal and vertical are two of the most common types of machinery in the market. We discuss in this blog the different bandsaw series supplied by Industrial Bandsaw Services.


Types of Bandsaws from Industrial Bandsaw Services
Double Miter Series

This series features a wide range of compact machinery. It is easy to get fooled if you judge the performance of double mitre machinery merely by its size. The compact size of double mitre machinery makes them ideal for workspaces with limited space. We boast double mitre bandsaws manufactured by Hydmech, one of the most trusted brands in the world. The DM-10, DM-12, and DM-1318P machinery from the double mitre series is immensely popular.


Horizontal Pivot Bandsaw Series

The horizontal pivot machinery series from Industrial Bandsaw Services features scissor-style machines apt for medium-duty applications. Horizontal pivot bandsaw machinery is regularly sourced from us by fabrication shops, automotive shops, oil refineries, machine shops, and trailer manufacturers.The S-20, S-20P, S-20A. and S-23P are popular models that are part of the horizontal pivot bandsaw machinery.


Horizontal Bandsaws

The horizontal series supplied by Industrial Bandsaw Services is apt for a high-production environment. The horizontally placed guillotine saws offer straight cuts. Horizontal machinery can easily cut through metal with up to 80" thickness. The horizontal machinery is classified into the following categories — automatic, automatic long bar feed, and semi-automatic bandsaws.

Conclusion

Apart from the above-mentioned series, we also supply vertical machinery. Also named the V-series, it boasts machinery with vertical tilt frames built for heavy-duty applications. You can count on us at Industrial Bandsaw Services for all your bandsaw supplies. We boast decades of experience and an untarnished image. Call us today to learn about all we can do for you.