Discussing The Features of V-25APC Vertical Bandsaw
October 25, 2023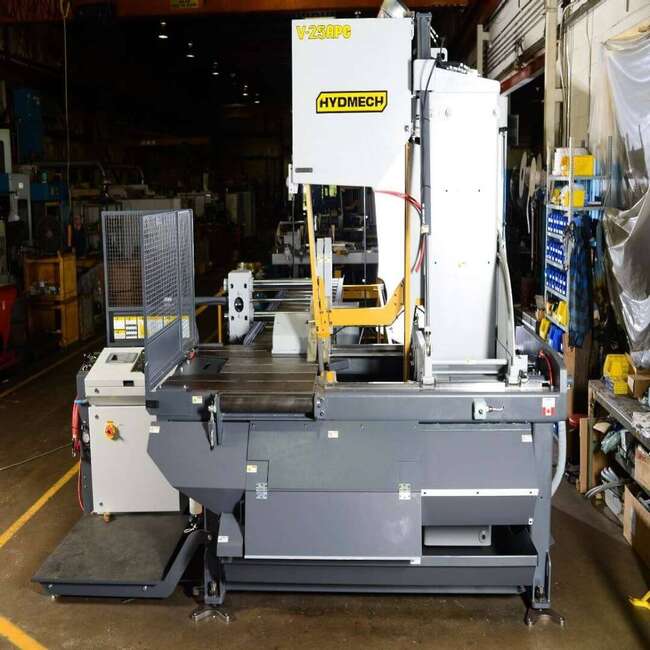 Through years of dedication and commitment to excellence, Industrial Bandsaw Services has established itself as one of the best bandsaw suppliers in Ontario. We are recognized by experts in the metal-cutting industry as a reliable supplier of bandsaw machinery. Our 3500-square-foot facility in Mississauga, ON, is well-stocked with used and brand-new bandsaws. What's more? The fully-equipped shop is used by expert welders to fabricate top-notch bandsaw blades depending on the customer's requirement. Our stock comprises a wide range of horizontal and vertical bandsaws. In this blog, we discuss V-25APC—a vertical machinery that is quite popular in the metal-cutting industry.

What Makes V-25 APC Highly Sought After?

This automatic vertical bandsaw has the ability to miter 60 degrees from left to right. The V-25 APC is powered by a 3 HP hydraulic pump. This powerful pump supplies pressure through two and three-position directional valves. The hydraulic pump effectively controls blade tension, and head swing, and guides arm movement, thus ensuring seamless cutting. Apart from the 3 HP pump, the V-25APC is equipped with a powerful 10 HP motor. The 10 HP motor combined with a rack and pinion servo drive enables this bandsaw to cut through even the toughest metals with ease.

The cast iron band wheels and robust steel base make this vertical bandsaw apt for heavy-duty applications. The touchscreen control makes it easy for you to feed instructions. The shuttle features automatic multi-indexing up to 60" in a single stroke. What's more? It also offers automatic kerf comparison. This powerful machine weighs a staggering 6818 kg and comes with a replaceable blade brush, an out-of-stock switch, and a blade breakage switch.

Conclusion
As we have seen in this blog, the many impressive features of the V-25APC make it highly effective for metal cutting. Industrial Bandsaw Services is a leading supplier of a wide range of horizontal and vertical bands from some of the top brands like Hydmech. We are the go-to brand for all your bandsaw supplies in Southern Ontario. Call us today to place an order.