Discussing V-20 Vertical Bandsaw From Hydmech
November 10, 2023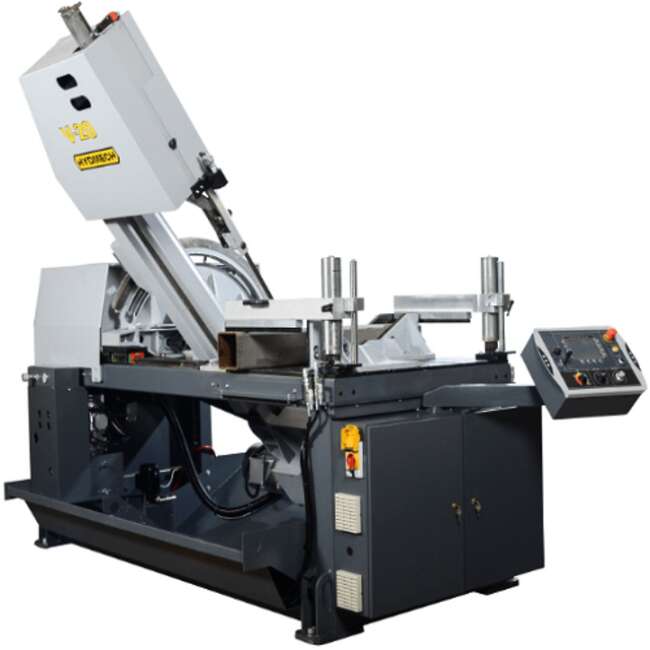 Vertical bandsaws, also known as contour saws, are immensely popular. They do a great job cutting metal bars and sheets into different sizes. The efficiency of this bandsaw ensures that there is no chipping and that the cuts are clean. The impressive feed rate of vertical saws ensures a quick turnaround time. Industrial Bandsaw Services is a dependable supplier of horizontal and vertical bandsaws. Our extensive collection features machinery from top bandsaw manufacturers. In this blog, we shed light on the V-20 semi-automatic vertical bandsaw. The V-20 is one of the most sought-after bandsaws by our clients.
Extraordinary Features of V-20 Vertical Bandsaw
The energy-saving feature is one of the most impressive highlights of the V-20 bandsaw. The demand hydraulics combined with a constant torque electric feed control uses significantly less energy than other bandsaws. In fact, it uses 2/3 less energy than the average industrial bandsaw. The cast iron band wheels and replaceable blade brush are welcome additions to this bandsaw. A 2 HP hydraulic pump provides system pressure. A semi-automatic touchscreen NC controller allows the operators to easily control the machinery.
Weighing at 1909 kg, the V-20 is a heavy-duty bandaw for heavy-duty applications. The blade drive stands at 10 HP VFD and the coolant tank capacity of 75 liters is adequate. The saw head is torsion-free and made of high-quality cast iron. The build quality of the saw head ensures durability and minimal vibrations. The robust steel base gives the machinery stability. The electronic band tensioning ensures consistent blade tension.
Conclusion
The V-20 is an impressive semi-automatic vertical bandsaw manufactured by Hydmech. The many impressive features listed in this blog make the V-20 easy to operate. The V-20 is highly effective in cutting a wide range of metals. Industrial Bandsaw Services is a one-stop destination for all your bandsaw supply needs. You can rely on us for sourcing the best machinery. We also supply top-quality bandsaw blades and bandsaw parts. Consult our experts to learn about all we can do for you.