Purchasing the Best Used Bandsaws at Industrial Bandsaw Services
May 21, 2020
Purchasing the Best Used Bandsaws at Industrial Bandsaw Services
Many businesses may choose to purchase used bandsaws or bandsaw blades instead of buying brand new products. There are many benefits to opting for used products, especially if you can source high quality ones from suppliers such as Industrial Bandsaw Services. The most obvious advantage is that you can immediately cut costs, which may benefit you if you are just looking for a replacement machine or if you are looking to temporarily boost production output due to seasonal demand.
Industrial Bandsaw Services specializes in the Hyd Mech line of bandsaws, which means we supply both new and refurbished machinery from one of the most trusted brands out there. Hyd Mech boasts over 40 years of experience in the industry, fine-tuning their machine designs so that they provide optimal functionality and efficiency. If you are looking for a used bandsaw, a Hyd Mech machine is the best option.
We carry a wide range of products from Hyd Mech, including the bandsaws below:
DM-10 Band Saw
This is a more compact machine that is easy to use, featuring a rigid cast iron head and vises that are designed to efficiently absorb vibrations, thus ensuring exceptional accuracy during the cutting process. Its rotating table is designed to ease movement and promote precision, making for smooth cutting operations. If you are looking for a versatile, easy-to-use bandsaw with a small footprint, this is the product for you.
S-20 Band Saw
Suitable for light to medium-duty operations, this bandsaw comes with a swing head design that makes it perfect for use in tight working spaces. It features a 3 HP true direct blade drive, meaning there are no belts or pulleys in this machine. In the long run, you can save on maintenance and repair costs thanks to its simpler, more streamlined design.
M-16A Band Saw
The M-16A is an automatic scissor style bandsaw that is suited for heavy-duty applications. Its motor is one of the most powerful in Hyd Mech's range of products, allowing it to work with a wide range of materials. It is capable of pulling off automatic multi-indexing of up to 33" in a single stroke. On top of that, its advanced PLC capabilities allow operators to program up to 99 jobs with 5 in queue. With this machine in your inventory, you can expect a significant productivity boost.
Purchasing a used bandsaw is easy when you have so many high-quality options. You need not worry about the performance differences between new and used bandsaws, as we at Industrial Bandsaw Services make sure to only supply refurbished products that are fully functional and well maintained. Today may be your lucky day to get your dream bandsaw. We have two Hyd Mech S-20 machines for sale, pictured below: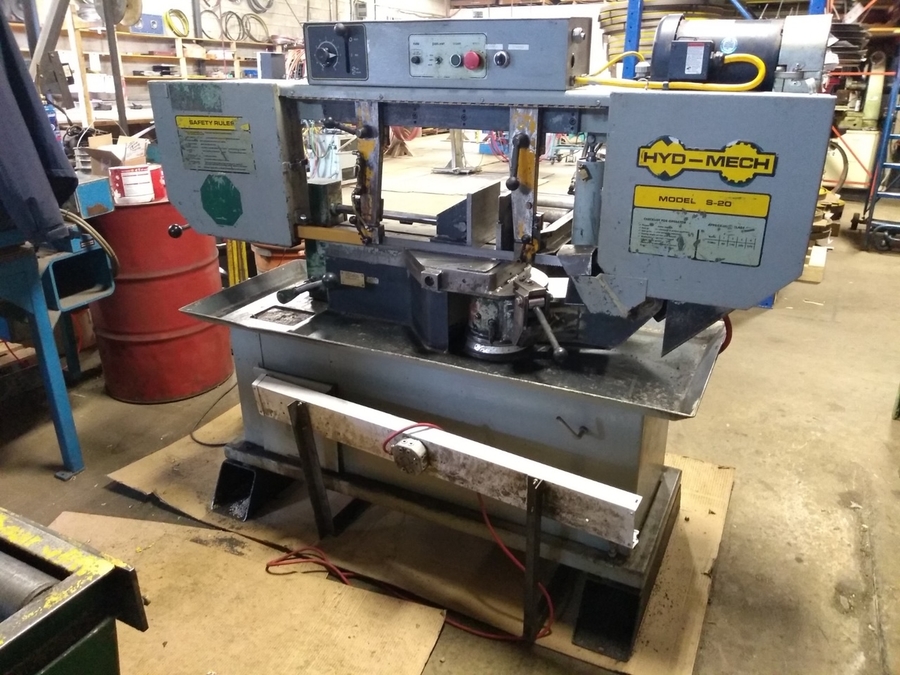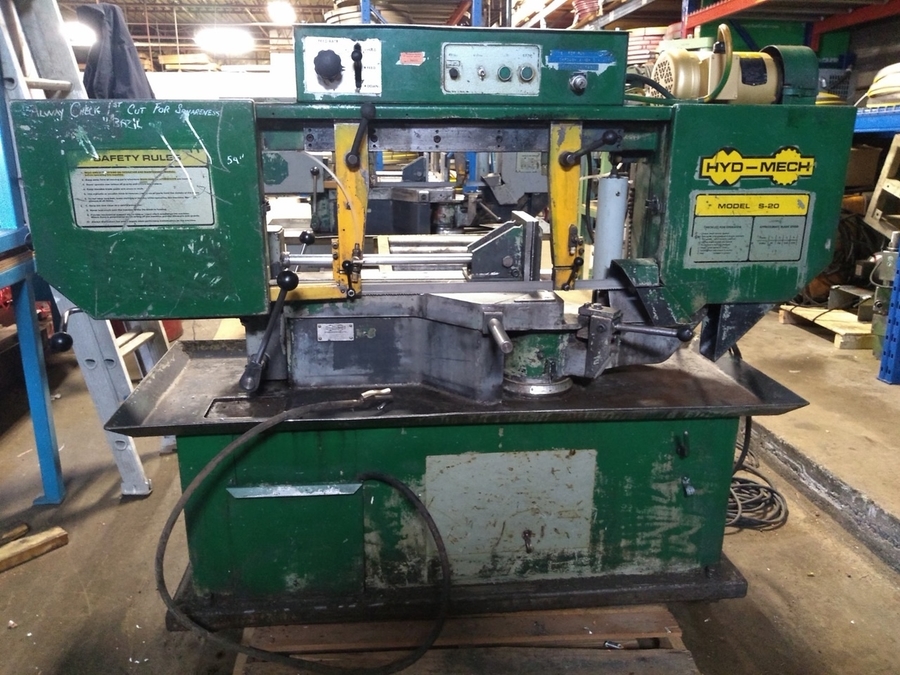 If you want to get your hands on these S-20s, contact us today at 905 566 4800!