Type of Bandsaws From Industrial Bandsaw Services
August 31, 2023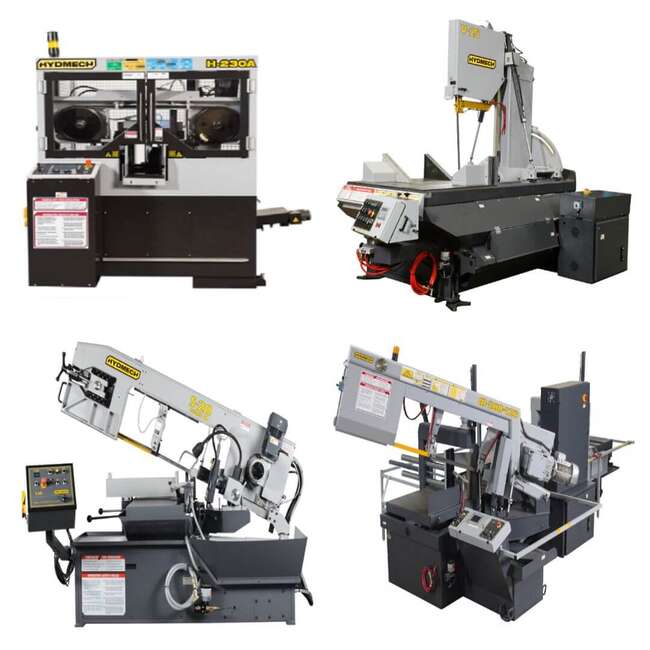 Bandsaws are sophisticated machinery that offers the ability to achieve flawless and precise cuts. What's more? They allow metal fabricators and woodworkers to cut through even the hardest material quickly, thus significantly reducing the turnaround time. Quick turnaround time in turn enables metal fabricators and woodworkers to maximize their profits. The reputation of the suppliers is one of the most important factors to consider while sourcing this machinery. Industrial Bandsaw Services is a leading name in bandsaw supplies. With decades of experience supplying a wide range of cutting machinery, we have earned a name for ourselves as one of the best in the industry. We discuss in this blog the different types of bandsaws supplied by us.

Types of Bandsaws Supplied by Industrial Bandsaw Services
Double Mitre Series

The double mitre series is known for its compactness. These machinery might be small in size but offer powerful performance. Our double mitre series features some of the smallest saws from Hydmech. We are the official suppliers of Hydmech in Ontario. When you source double mitre bandsaws from us, you can be assured of its quality and performance.



Horizontal Pivot Band Saws Series

The horizontal pivot saw series is versatile and perfect for medium-duty applications. Horizontal pivot saws are used everywhere from machine shops and fabrication shops to oil refineries and the automotive industry. One of the key advantages of horizontal pivot saws is their ability to handle larger workpieces. Whether you're working with long pieces or bulky materials, this series can accommodate them with ease. The pivoting action allows for efficient handling and positioning of the workpiece.



Horizontal Series

This series gets its name owing to the horizontally-placed guillotine saws that offer flawless cuts. This machinery is perfect for a multi-shift, high-production environment. The small and compact H-230A, suitable for up to 10 different cutting jobs, as well as the H-22A-120 heavy-duty, automatic, long bar feed saw featuring versatile guillotine-style blades are part of the horizontal series.


Vertical Series

Our extensive selection of vertical bandsaws are built to last long and deliver top-notch performance throughout. The vertical frame of these bandsaws features two-way mitres and comes in automatic and semi-automatic settings. V-series bandsaws offer cutting capacities of up to 30 inches. The bar feeds range between 40 to 120 inches.
Conclusion
Industrial Bandsaw Services is the place to be for all your bandsaw needs. With an extensive selection of different types of machinery, we are able to cater to clients of all types belonging to different industries. Whether you are looking for horizontal or vertical machinery, we have got you covered. Get in touch with us today to learn about everything we can do for you.