Vertical Bandsaws From Industrial Bandsaw Services
June 05, 2023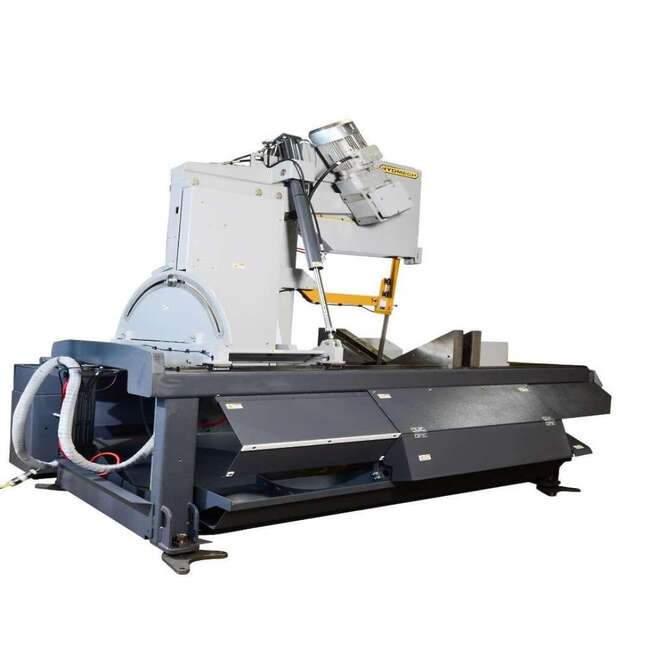 Industrial Bandsaw Services is a leading supplier of bandsaws in Ontario. Our extensive selection of machinery features both horizontal and vertical series. While horizontal bandsaws are generally preferred to cut harder materials like steel, our vertical series is no less when it comes to metal-cutting applications. While sourcing bandsaws, sourcing them from a trusted supplier like Industrial Bandsaw Services is essential. We list in this blog post the vertical bandsaw supplied by Industrial Bandsaw Services and their respective specifications.


Popular Vertical Bandsaws from Industrial Bandsaw Services
VW-18 II

This is a semi-automatic vertical bandsaw that has the ability to mitre 60 degrees to the left and to the right. Manufactured by Hydmech, one of the leading bandsaw manufacturers, the saw head of this bandsaw can cut at 90 degrees. This bandsaw features a 22"H and 18"W capacity along with a 1 1/4 blade and a 5 HP motor. This bandsaw is perfect for light to medium-application metal cutting applications.



V-18

The VW-18 II is a versatile saw that can handle complex metal-cutting applications. Its compact design makes it ideal for small workshops or job sites where space is limited. This particular bandsaw can mitre 45 degrees to either side. This machinery boasts a 6-degree canted head and is ideal for when cutting larger structural steel beams. The V-18 model boasts an impressive 7.5 horsepower motor and a 1 ¼ inch blade capacity.


V-20

V-20 is a semi-automatic vertical bandsaw that can mitre 60 degrees to either side. The increased efficiency of this bandsaw can be associated with its four-degree forward approach angle. The touchscreen controller makes it easy to control the V-20 bandsaw. This semi-automatic bandsaw also allows for manual operation, making it a versatile option. You can rely on this bandsaw for all your metal-cutting applications.
Conclusion
Industrial Bandsaw Services offers a wide range of high-quality vertical bandsaws designed to meet the needs of various industries. Our exemplary range of bandsaws provides precision cutting and durability that can withstand even the toughest materials. With years of experience in manufacturing and servicing bandsaws, Industrial Bandsaw Services is committed to providing exceptional customer service and support. Whether you need help selecting the right bandsaw for your application or require maintenance assistance, their team is always ready to assist you. Contact us today to learn about everything we can do for you.