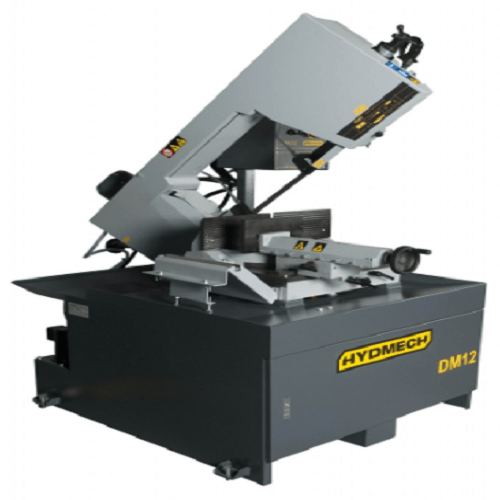 STANDARD FEATURES
Manually operated easy swing, cast saw head
Quick release cast-iron vise with dovetail ways
Rotating table with cut line
Band tension indicator
Manual gravity head feed
Replaceable blade brush
Small footprint
Robust steel base
Easy to read angle scale
Adjustable guide arm
Replaceable carbide guide inserts
Mechanical blade tensioning
Safety door interlocks
Flood coolant
Work stop
Storage in saw base
DM-12 Band Saw
Request A Quote
The HYDMECH DM-12 is a double miter band saw that provides exceptional cutting capability. This versatile saw saves operator set-up time and its compact design makes it ideal for use in tight working spaces. Its cast iron head and vises are designed for rigidity – absorbing vibrations and ensuring accuracy during cutting. A rotating table with single cut line allows head and blade groove to move together for smooth, accurate mitering. From user-friendly operator controls, to easily accessible electrical panels and cabinets, the DM-12 double miter band saw is solidly built to provide maximum productivity.
TECHNICAL SPECIFICATIONS
Rectangular Capacity at 90°

10 1/8" H x 12 7/8" W

257 mm H x 327 mm W

Round Capacity at 90°

11 3/4″

298 mm

Blade Dimensions

1" x 10′ 11"

25.4 mm x 3327 mm

Blade Drive

2/2.5 HP VFD

1.5/1.8 kW VFD

Blade Speed

156/312 sfm

47-95 m/min

Coolant Tank Capacity

16 US gal

60 liters

Machine Weight

1,640 lbs

743 kg

Machine Dimensions

48" W

84" L

64" H

1219 mm W

2133 mm L

1625 mm H

WELCOME TO
INDUSTRIAL BANDSAW
:
THE RELIABLE NAME IN BAND SAW SERVICES
That latter part we can show you with a range of machinery, industrial band saw blades, services, and advice that you can rely on to keep your equipment performing and add value to your business. In other words, we produce the best band saw blades in Ontario and Canada.
Learn More