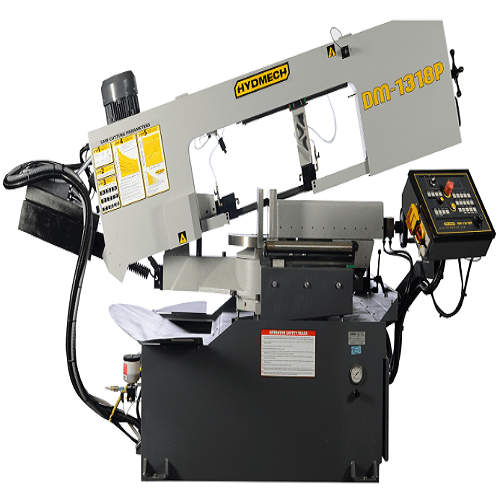 STANDARD FEATURES
Heavy duty cast iron saw head
5 HP true direct blade drive – no belts/pulleys
On-demand hydraulics save energy
Quick release, hydraulic cast-iron vise on linear ways
Rotating table with cut line
Mechanical band tensioning with digital readout
Gravity head feed
Automatic hydraulic head lifting in semi-automatic mode
Swing away, semi-automatic control
Replaceable blade brush
Robust steel base
Easy to read angle scale
Digital angle display
Adjustable guide arm
Replaceable carbide guide inserts
Safety door interlocks
Flood coolant
Laser light
DM-1318P Band Saw
Request A Quote
The DM-1318P double miter, semi-automatic band saw provides exceptional miter cutting for medium duty applications. Its versatile swing head with easy to read angle scale, saves operator time. The heavy-duty gearbox and motor assembly ensures the DM-1318P will deliver maximum productivity. The cast iron double swivel head features an easy to read angle scale and "quick" stops at 90, 45, and 60 degree positions. The cast iron vise slides on linear ways which can be easily positioned to either the left or right side of the head and includes a quick release mechanism for rapid positioning. Featuring a 13″H x 17 3/4″ W capacity at 90°, 5.5 HP motor, and 1 1/4″ blade, the DM-1318P is a versatile double miter band saw.
TECHNICAL SPECIFICATIONS
Rectangular Capacity at 90°

13" H x 17 3/4" W

330 mm H x 450 mm W

Round Capacity at 90°

13″

330 mm

Blade Dimensions

1 1/4" x 14′ 9"

32 mm x 4496 mm

Blade Drive

5.5 HP VFD

4 kW VFD

Blade Speed

65-330 sfm

19-100 m/min

Coolant Tank Capacity

21 US gal

80 liters

Machine Weight

2,515 lbs

1140 kg

Machine Dimensions

130" W

69" L

89" H

3302 mm W

1752 mm L

2260 mm H

WELCOME TO
INDUSTRIAL BANDSAW
:
THE RELIABLE NAME IN BAND SAW SERVICES
That latter part we can show you with a range of machinery, industrial band saw blades, services, and advice that you can rely on to keep your equipment performing and add value to your business. In other words, we produce the best band saw blades in Ontario and Canada.
Learn More