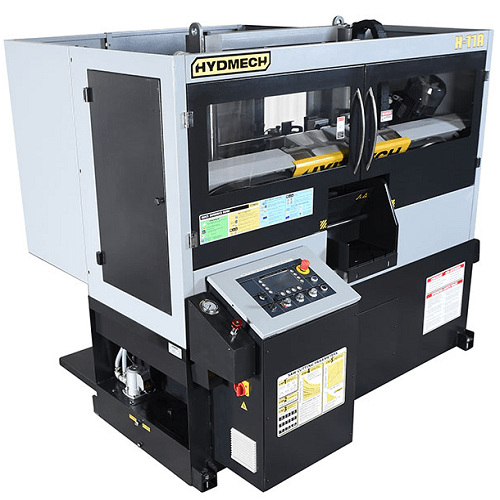 STANDARD FEATURES
The brand new H-11A is an automatic horizontal band saw providing accurate 90° metal cutting for medium to heavy-duty applications. A Windows based touch screen NC controller stores up to 99 jobs with 5 in queue. It operates both manual and automatic cycles with the display available in a variety of languages.
A heavy duty shuttle vise powered by a ball screw and stepper motor provides material indexing up to 19" in a single stroke with multi-index capability. Its standard split front vise delivers a short material remnant length of 1.5″, reducing material waste. A Cast iron guide arm mechanically connected to front vise movable jaw provides proper guide arm to material spacing at all times.
Featuring a 11″ x 13″ capacity, 6 HP VFD motor, and 1 1/4″ blade, the H-11A is a reliable choice for your horizontal metal cutting applications.
H-11A Band Saw
Request A Quote
Automatic Horizontal Band Saw
TECHNICAL SPECIFICATIONS
Featured Specifications

Rectangular Capacity at 90°

11" H x 13.5" W

Blade Size

1 1/4″ x 14′ 9″

Blade Drive

6 HP

Operation

Automatic

WELCOME TO
INDUSTRIAL BANDSAW
:
THE RELIABLE NAME IN BAND SAW SERVICES
That latter part we can show you with a range of machinery, industrial band saw blades, services, and advice that you can rely on to keep your equipment performing and add value to your business. In other words, we produce the best band saw blades in Ontario and Canada.
Learn More