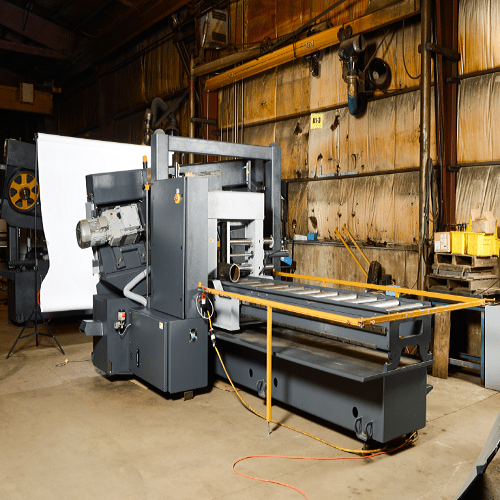 STANDARD FEATURES
The H-22A-120 is a heavy-duty, automatic, horizontal long bar feed band saw designed to provide exceptional cutting performance in multi-shift, high production environments. This highly versatile guillotine style machine can be utilized for a wide variety of material applications, ranging from mild steels and aluminum's to stainless, tool steels and more exotic high temperature alloys. No matter what the application it can provide cut quality that is second to none.
The machine's PLC 100 controller can be easily programmed for up to 99 different jobs. The easy programming of the E 300 interface, and the user-friendly manual control switches make for minimum job setup time and cost effective operation. The full capacity hydraulic overhead bundling clamps provide for efficient high production cutting of various material bundles.
The H-22A-120 is fast, with its high speed shuttle feed indexing up to 120″ in a single movement. Its standard 6° degree canted head allows for more efficient cutting and improved blade life.
Featuring a 20″ x 22″ capacity, 10 HP motor, and 2″ blade, the H-22A-120 is a reliable choice for all your heavy-duty horizontal metal cutting applications.
H-22A-120 Band Saw
Request A Quote
Automatic Long Bar Feed Horizontal Band Saw
TECHNICAL SPECIFICATIONS
Featured Specifications

Rectangular Capacity at 90°

22" H x 22" W

Blade Size

2″ x 22′ 6″

Blade Drive

10 HP

Operation

Automatic

WELCOME TO
INDUSTRIAL BANDSAW
:
THE RELIABLE NAME IN BAND SAW SERVICES
That latter part we can show you with a range of machinery, industrial band saw blades, services, and advice that you can rely on to keep your equipment performing and add value to your business. In other words, we produce the best band saw blades in Ontario and Canada.
Learn More