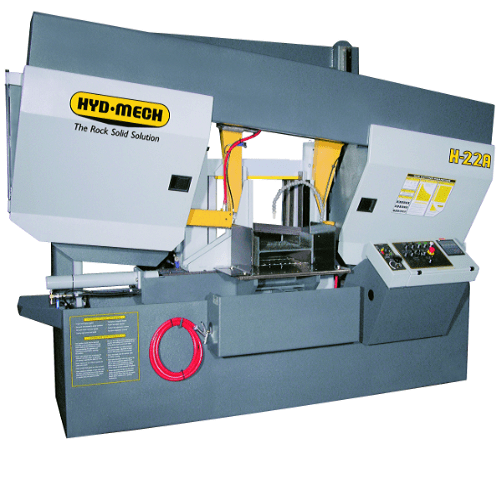 STANDARD FEATURES
The H-22A is an automatic horizontal band saw providing accurate 90° metal cutting for heavy-duty applications.
The H-22A is fast, with its high speed shuttle feed indexing up to 34″ in a single movement. Its optional 6° degree canted head, recommended when cutting larger beams, structural steel, and bundles of square tubing allows for more efficient cutting and improved blade life.
Featuring a 22″ x 22″ capacity, 10 HP motor, and 2″ blade, the H-22A is a reliable choice for all your heavy-duty horizontal metal cutting applications.
H-22A Band Saw
Request A Quote
Automatic Horizontal Band Saw
TECHNICAL SPECIFICATIONS
Featured Specifications

Rectangular Capacity at 90°

22" H x 22" W

Blade Size

2″ x 22′ 6″

Blade Drive

10 HP

Operation

Automatic

WELCOME TO
INDUSTRIAL BANDSAW
:
THE RELIABLE NAME IN BAND SAW SERVICES
That latter part we can show you with a range of machinery, industrial band saw blades, services, and advice that you can rely on to keep your equipment performing and add value to your business. In other words, we produce the best band saw blades in Ontario and Canada.
Learn More