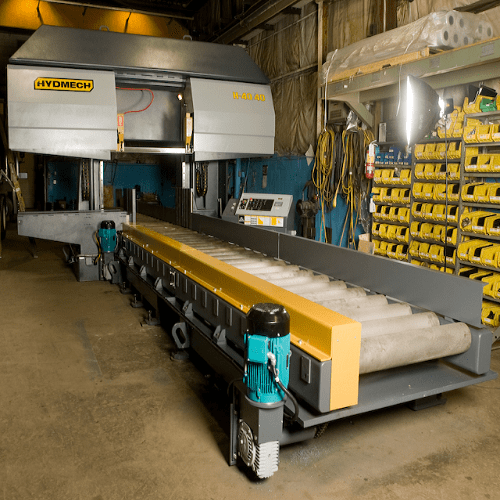 STANDARD FEATURES
The H-40/40 is a horizontal band sawproviding accurate 90° metal cutting for heavy-duty applications.
The H-40/40 has a workload capacity of 50,000 lbs. A 5 HP driven hydraulic pump supplies system pressure through three position directional valves controlling all vising, head up/down, blade tension, guide arm, and shuttle movement.
Its PLC control digitally displays blade speed, feed rate, head up limit position, and cut elapsed time, and time remaining.
Featuring a 40″ x 40″ capacity, 20 HP motor, and 3″ blade, the H-40/40 is a reliable choice for all your heavy-duty horizontal metal cutting applications.
H-40/40 Band Saw
Request A Quote
TECHNICAL SPECIFICATIONS
Featured Specifications

Rectangular Capacity at 90°

40" H x 40" W

Blade Size

3″ x 37′

Blade Drive

20 HP

Operation

Manual

WELCOME TO
INDUSTRIAL BANDSAW
:
THE RELIABLE NAME IN BAND SAW SERVICES
That latter part we can show you with a range of machinery, industrial band saw blades, services, and advice that you can rely on to keep your equipment performing and add value to your business. In other words, we produce the best band saw blades in Ontario and Canada.
Learn More