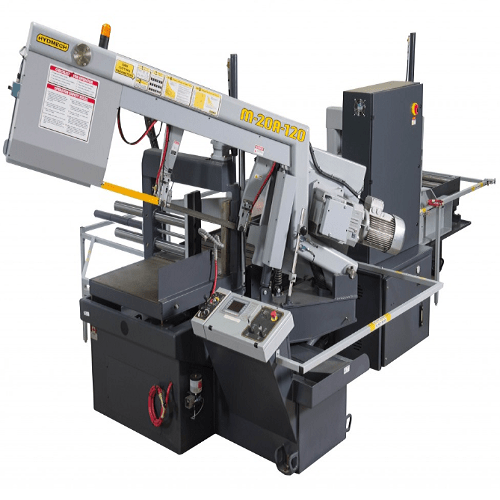 STANDARD FEATURES
Automatic programmable mitering with "go to" angle functionality
Full capacity hydraulic overhead bundling
10' bar feed
Automatic multi-indexing up to 120" in a single stroke.
Steel guide arms mounted on linear rails. Hydraulically powered idler side guide arm is adjustable for proper spacing.
10 HP VFD. True direct blade drive – no belts/pulleys
Full capacity, full stroking hydraulic vises
Hydraulic positive down feed
Blade chamber separates material from cut part
Cast iron band wheels
Automatic PLC, touch screen control programmable up to 1000 jobs with 20 in queue.
Replaceable blade brush
Robust steel base
Automatic chip removal auger
Easy access electrical panel and hydraulics
Blade breakage switch
Hardened replaceable wear plates on material vises
Hydraulic band tensioning
Hydraulic carbide guide tensioning
Safety door interlocks
Flood coolant with wash down hose
Laser light
Work light
M-20A-120 Band Saw
Request A Quote
The M-20A-120 is a heavy-duty automatic horizontal pivot band saw, its ability to miter cut from 90 to 60 degrees makes it an excellent machine for large fabrication jobs. The machines PLC controller can be easily programmed, storing up to 99 different cutting jobs and includes a Job Queue function. The simple programming and user friendly controls switches minimize set up time and affords cost effective production. Equipped with a 120″ bar feed, its shuttle vise assembly capable of indexing up to 120" in a single stroke. Featuring a 20″H x 30″W capacity at 90°, 10 HP motor, and 1 1/2″ blade, the M-20A-120 is a reliable choice for your heavy-duty metal cutting applications.
TECHNICAL SPECIFICATIONS
Rectangular Capacity at 90°

20" H x 30" W

508 mm H x 762 mm W

Round Capacity at 90°

20″

508 mm

Blade Dimensions

1 1/2" x 20′ 6"

41 mm x 6248 mm

Blade Drive

10 HP VFD

7.5 kW VFD

Blade Speed

50-350 sfm

15-106 m/min

Coolant Tank Capacity

9 US gal

34 liters

Machine Weight

12,700 lbs

5760 kg

Machine Dimensions

129" W

210" L

89" H

3276 mm W

5334 mm L

2260 mm H

WELCOME TO
INDUSTRIAL BANDSAW
:
THE RELIABLE NAME IN BAND SAW SERVICES
That latter part we can show you with a range of machinery, industrial band saw blades, services, and advice that you can rely on to keep your equipment performing and add value to your business. In other words, we produce the best band saw blades in Ontario and Canada.
Learn More