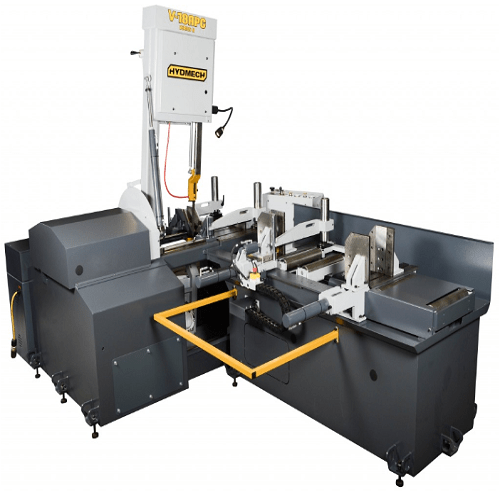 STANDARD FEATURES
Automatic programmable mitering with "go to" angle functionality from 45° left to 45° right
Two full stroking hydraulic vises and third squaring vise
Automatic multi-indexing up to 40" in a single stroke.
Hydraulically powered idler side guide arm
Automatic PLC control programmable up to 99 jobs with 5 in queue.
Drag chain chip conveyor
Hydraulic overhead bundling
5 HP VFD. True direct blade drive – no belts/pulleys
Hydraulic positive down feed
Blade chamber separates material from cut part
Out of stock switch
Cast iron band wheels
Replaceable blade brush
Robust steel base
Easy access electrical panel and hydraulics
Blade breakage switch
You choose left or right side infeed
Hydraulic band tensioning with digital readout
Replaceable carbide guide inserts
2 HP hydraulic pump provides system pressure
Safety door interlocks
Flood coolant with wash down hose
Laser light
Work light
V-18APC Band Saw
Request A Quote
The V-18APC is an automatic vertical band saw with the ability to miter from 45° left to 45° right. The V-18APC is fast, with its high speed shuttle feed indexing up to 40″ in a single movement. A 2 HP driven hydraulic pump supplies system pressure through 3-position directional valves controlling all vising, head swing, head advance/retract, blade tension, guide arm, and shuttle movement. Its PLC control features storage of up to 99 jobs with the ability to run 5 in queue. Featuring a 18″W x 31″H capacity, 7.5 HP motor, and 1 1/4″ blade, the V-18APC is a reliable choice for all your vertical metal cutting applications.
TECHNICAL SPECIFICATIONS
Rectangular Capacity at 90°

31" H x 18" W

787 mm H x 457 mm W

Round Capacity at 90°

17.5″

444 mm

Blade Dimensions

1.25" x 16'11"

34 mm x 4547 mm

Blade Drive

7.5 HP VFD

5.6 kW VFD

Blade Speed

65-385 sfm

19-117 m/min

Coolant Tank Capacity

20 US gal

75 liters

Machine Weight

7500 lbs

3409 kg

Machine Dimensions

168" W

112" L

97" H

4267 mm W

2844 mm L

2463 mm H

WELCOME TO
INDUSTRIAL BANDSAW
:
THE RELIABLE NAME IN BAND SAW SERVICES
That latter part we can show you with a range of machinery, industrial band saw blades, services, and advice that you can rely on to keep your equipment performing and add value to your business. In other words, we produce the best band saw blades in Ontario and Canada.
Learn More
Close
JULY PROMO
Buy any S-Series saw in July and receive a free 5' conveyor!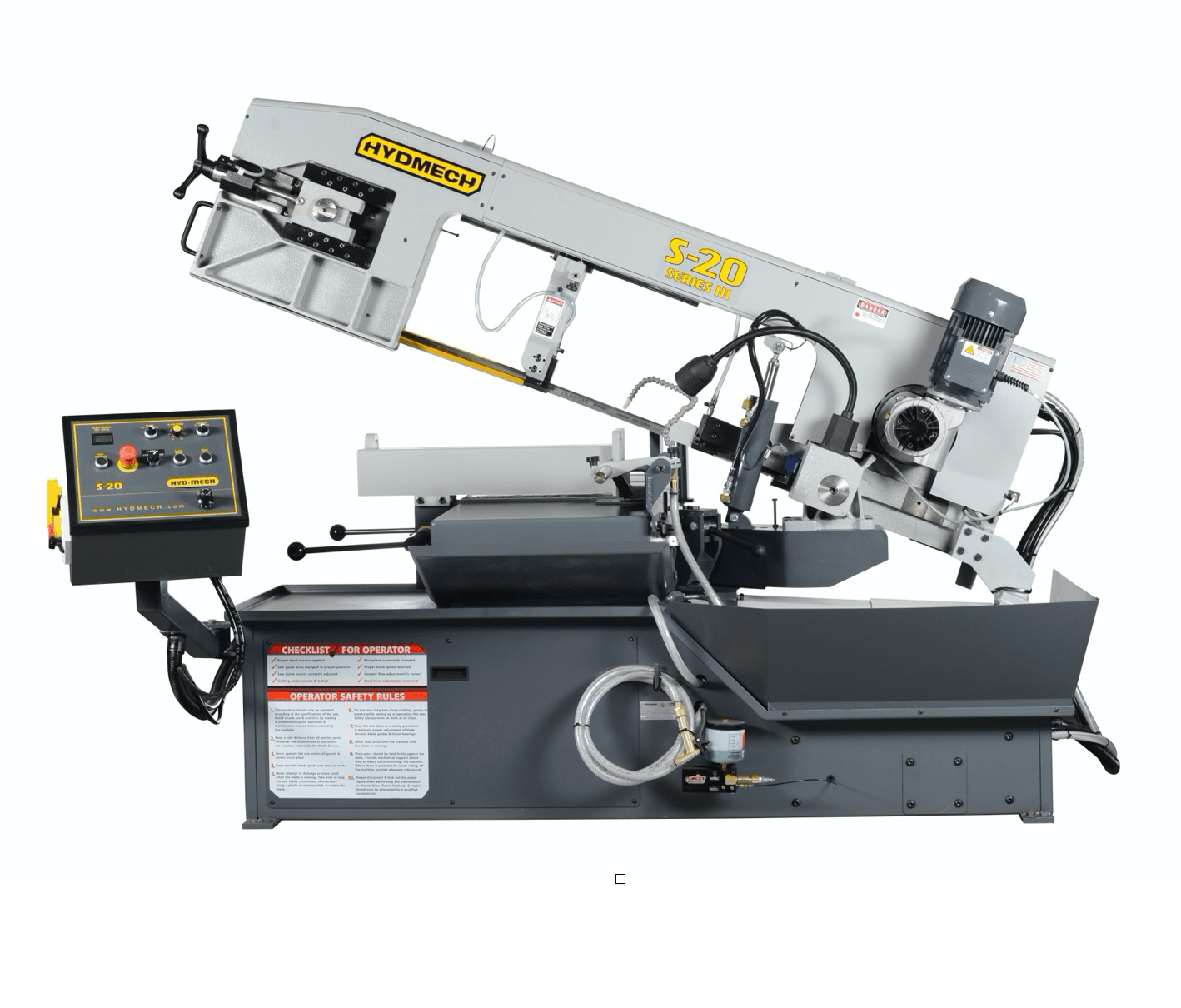 Conditions apply, please contact Industrial Bandsaw Services for more info: 905-566-4800