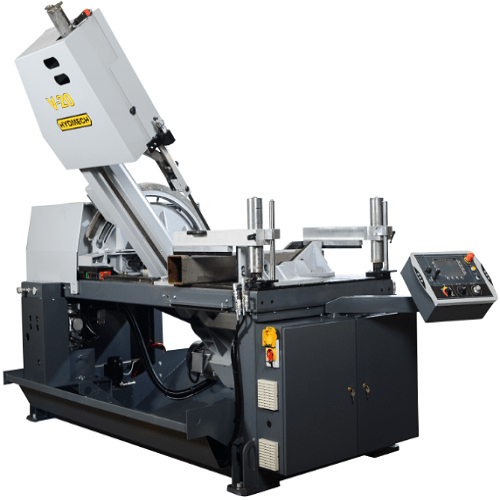 STANDARD FEATURES
Save energy! The V-20 on demand hydraulics combined with a constant torque electric feed control, uses 2/3 less energy than any other band saw on the market!
4° canted head allows for efficient cutting and improved blade life
Cast iron, torsion free saw head provides durability, stiffness, and absorbs vibrations
On-demand hydraulics save energy
High efficiency, constant torque electric ball screw feed system
Automatic programmable mitering with "go to" angle functionality from 60° left to 60° right
Semi-automatic touch screen NC controller
Two full stroking hydraulic vises
Electronic ball screw powered, guide arm
10 HP VFD. True direct blade drive – no belts/pulleys
Cast iron band wheels
Replaceable blade brush
Robust steel base
Variable vise pressure
Easy access electrical panel and hydraulics
Electric chip conveyor
Blade breakage switch
Electronic band tensioning provides consistent, automatic blade tension
Replaceable carbide guide inserts
2 HP hydraulic pump provides system pressure
Safety door interlocks
Flood coolant with wash down hose
Laser light
Work light
V-20 Band Saw
Request A Quote
The V-20 is a semi-automatic vertical band saw with the ability to miter from 60° left to 60° right. Its standard 4-degree forward approach angle provides increased efficiency in cutting of structural materials. Conveniently located on an articulating console on the front of the machine. The NEW WINDOWS 5.0 Touch Screen NC controller operates the Semi-Automatic cycle and allows for Manual operation as well. A wide variety of languages can be chosen for message screen display. The double miter angle operation has an angle "Go To" function, which allows the operator to enter 2 desired angles up to 60 degrees and have the machine Featuring a 25″H x 20″W capacity, 10 HP VFD motor, and 1 1/2″ blade, the V-20 is a reliable choice for all your vertical metal cutting applications.
TECHNICAL SPECIFICATIONS
Rectangular Capacity at 90°

25" H x 20" W

635 mm H x 508 mm W

Round Capacity at 90°

20″

508 mm

Blade Dimensions

1.5" x 19'3"

41 mm x 5880 mm

Blade Drive

10 HP VFD

7.5 kW VFD

Blade Speed

65-400 sfm

19-121 m/min

Coolant Tank Capacity

20 US gal

75 liters

Machine Weight

4200 lbs

1909 kg

Machine Dimensions

70" W

128" L

112" H

1178 mm W

3251 mm L

2844 mm H

WELCOME TO
INDUSTRIAL BANDSAW
:
THE RELIABLE NAME IN BAND SAW SERVICES
That latter part we can show you with a range of machinery, industrial band saw blades, services, and advice that you can rely on to keep your equipment performing and add value to your business. In other words, we produce the best band saw blades in Ontario and Canada.
Learn More